2014 
Please join us on Friday, April 25th at 7pm at St. Ann's Warehouse in DUMBO for the culminating performance of our 4th Annual Play-making Workshop for Brooklyn middle school students. The performance is free however reservations are required. RSVP to coltcoeur@gmail.com by April 21st.
Upcoming Play Hotel readings: 
Monday, January 28th, 2014 @ 7:15pm - She Rode Horses Like the Stock Exchange by Amelia Roper
directed by Adrienne Campbell-Holt
with McCaleb Burnett, Katya Campbell, Matt Stadelmann & Zuzanna Szadkowski
SoHo House, NYC
Wednesday, April 9th @7:15pm - Love Shack in '87 by Ryan King
directed by Adrienne Campbell-Holt, with Nadia Gan, Genesis Oliver, Matt Stadelmann, Chris Thorn & Joe Tippett.
SoHo House, NYC
The readings are free however seating is limited.  RSVP to coltcoeur@gmail.com by Friday, April 4th for more details.
2013

Upcoming Play Hotel readings: 
Monday, October 28th @ 6PM & 8PM
New Plays by Clare Barron & Claire Kiechel

Colt Coeur's Play Hotel reading series will present staged readings of two plays: a boy put this girl in a cage with a dog and the dog killed the girl by Clare Barron and Umma Lappa Soon  by Claire Kiechel on Monday, October 28th at 6pm (Barron play) & 8pm (Kiechel play) in the Bernie B. Jacobs room in the Sardi's building at 234 W. 44th Street, 11th floor.  Clare Barron's play will be directed by Stella Powell-Jones, and Claire Kiechel's play will be directed by Colt Coeur Artistic Director Adrienne Campbell-Holt. The cast for both readings will be announced soon.
The readings are free however seating is limited.  RSVP to 
CCPlayHotel@gmail.com
 by Friday, October 25
th
 for more details.

August 2013
Come see Everything is Ours by Nikole Beckwith August 31 - Sept 21 on the Mainstage at HERE. Click here for tickets and here to watch the trailer.

July 2013
We reached our Kickstarter goal and we are thrilled to be producing the world premiere of Nikole Beckwith's Everything is Ours, directed by Adrienne Campbell-Holt, August 31 - September 21, 2013 at HERE in NYC. More details will be announced soon… but in the meantime, tickets can be purchased here. 
May 2013
We are headed to the Orchard Project May 30-June 3rd to workshop new material on our FIRST LIFE project.
Also, don't miss the one-night-only Benefit Reading of Steven Levenson's SEVEN MINUTES IN HEAVEN featuring original cast members + special guest (2-time TONY nominee) Celia Keenan-Bolger— Monday, June 3rd 6:30-9:30pm (reading at 7:15pm) at Hayden 5's NoMad Loft in Manhattan.
Limited advance tickets are $30.
We will also be reading Laura Jacqmin's DENTAL SOCIETY MIDWINTER MEETING as part of our Play Hotel series. Monday, May 20th at 3pm in Manhattan. Email coltcoeur@gmail.com for all the details and to make a reservation.
March 2013
Over the past few weeks Colt Coeur has been visiting public schools all over Brooklyn and speaking to hundreds of young people. Despite our youth as a company, educational programming has been at the core of our efforts since the beginning. It is personal for us, as many of us attended under-resourced urban schools and free arts programs were our lifeline. 

This year, we are thrilled to present the culminating performance of our 3rd Annual Play-making Workshop with students ages 10-15 at the legendary St. Ann's Warehouse, across the street from our DUMBO studio. The event will take place Friday, March 29th at 6:30pm (reception) with a 7pm performance. The event is free however seating is limited. Email coltcoeur@gmail.com to make a reservation.

In order to offer this 5-day intensive entirely free-of-charge, we need to raise some funds. Here's a sense of what it costs: 
1 teaching artist for 1 week: $250 (We need at least 4!) 
Lunch for 1 student for 1 week: $50 (We have at least 20 students!) 
Props, costumes, ink cartridges, etc.: $300 
Bare bones crew at St. Ann's: $500 

Please be generous and join me in supporting the next generation of theatre artists! 

We are also overjoyed to announce our next Play Hotel— Everything is Ours, by Nikole Beckwith. The play is an ultra-contemporary, upstairs-downstairs comedy of manners, and a frighteningly accurate exploration of the post-Gen X state of alienation. It will be read Monday, March 18th at 115 West 45th Street, 11th Floor, NY, NY 10036. As always, we would love to have you there and limited rsvps will be accepted via email at coltcoeur@gmail.com.  
***********************************
Our 3rd Annual CoCo Karaoke Classic Benefit will take place Monday, October 22nd at CAMP Bar in Brooklyn. 
$40 advance tickets available here!
Celebrity singers including:
Greg Hildreth (PETER AND THE STAR CATCHER)
Celia Keenan-Bolger (PETER AND THE STAR CATCHER)
Zak Resnick (MAMMA MIA)
Phoebe Strole (SPRING AWAKENING)
Taylor Trensch (BARE)
Alysha Umphress (AMERICAN IDIOT)
Ben Walker (BLOODY BLOODY ANDREW JACKSON)
Libby Winters (AMERICAN IDIOT) 
More celebrities to be announced soon!
We are thrilled to announce dates for our next four Play Hotel workshops.  All events are free and open to the public. RSVP at CCPlayHotel@gmail.com.
Monday, September 24th at 7pm — Immortality/Technology Project (Steven Levenson) 
Monday, November 12th at 7pm — TBD
Monday, December 10th at 7pm — TBD (Caleb Scott)
Monday, January 14 at 7pm — TBD (Max Posner) 
                              _______________________
We are thrilled to announce our 3rd world premiere: 

RECALL 
by Eliza Clark
directed by Adrienne Campbell-Holt

June 8th-July 7th at The Wild Project

Is there such a thing as a bad seed?
Close your eyes and count to three.
Lucy's a child, and a child's a person, and people can do the ugliest things. 
Charlotte's an expert in ugly things. And the bloody, funny, terrible chase is on.

Radically imaginative and achingly plain, RECALL explores our need to feel connected, understood, and loved. No matter the damage, no matter the cost.
With: Katya Campbell, Owen Campbell, Jordyn DiNatale, Caleb Scott  & Colleen Werthmann
Advance tickets are $25 general admission and may be purchased here or by calling 212.352.3101. Tickets are $30 at the door.
The Wild Project is located at 195 East 3rd Street,  New York, NY 10009.  
Scenic design: John McDermott
Costume design: Paloma Young
Lighting design: Grant Yeager
Sound design: Amy Altadonna
Projection design: Aaron Rhyne
Properties: Andrew Diaz
Technical director: Kyle Crose
Production stage manager: Amy Groeschel
Assistant director: Sarah Blush
Press Representative: Richard Kornberg & Associates
Produced by COLT COEUR, Stephen Stout and Bethany Heinrich (Associate) 
Eliza Clark (Playwright) Eliza Clark's plays have been developed at Manhattan Theatre Club, the Studio at Cherry Lane Theatre, Page 73 Productions, Ensemble Studio Theatre, The Provincetown Playhouse, The New York International Fringe Festival, and Yale University. She received a commission from the Yale O'Neill Studio in 2006 and is currently working on a commission from South Coast Repertory. Eli was a member of Ensemble Studio Theatre's emerging writers group, Youngblood, and was the 2010 Page 73 Playwriting Fellow. Her play EDGEWISE was co-produced by Page 73 and The Play Company in the winter of 2010 at SoHo Rep. Eli graduated from Yale University in 2007 and is currently living in Los Angeles where she wrote for Season One of AMC's RUBICON, and just finished writing for Season Two of AMC'S THE KILLING.  
                                       _________________ 
Colt Coeur will read Adam Bock's Marcy Comes Home at 7pm on Tuesday, March 13th.
RSVP to ccplayhotel@gmail.com if you'd like to attend.

Colt Coeur's 2nd Annual Karaoke Classic Benefit on
October 24th was a huge hit. 
Check out pictures from the event here and here.
Our 2011-2012 season is already underway.  
Our Play Hotel series launched this summer with a successful reading of Eliza Clark's Recall in Los Angeles and continued with a reading of Max Posner's The Thing About Air Travel at our Brooklyn studio in November.

                              _______________________
Colt Coeur is pleased to announce this spring's production!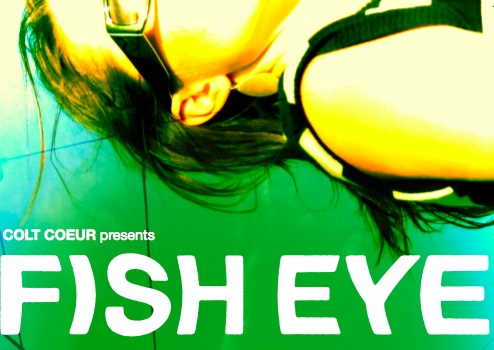 A new play by Lucas Kavner
directed by Adrienne Campbell-Holt
with Katya Campbell*, Ato Essandoh*, Betty Gilpin*, Joe Tippett*
  
 Scenic Design: John McDermott   Costume Design: Jessica Pabst
Lighting Design: Grant Yeager      Sound Design: Daniel Kluger
Props: Amelia Freeman-Lynde  Technical Dir: Markus Paminger
Stage Manager: Trisha Henson*            Producer: Amy Groeschel     
       Press Representative: Richard Kornberg & Associates
    A darkly funny and unflinching portrait of a couple struggling to hold on to one another without losing themselves.  Fish Eye explodes the traditional chronology of romance and offers a modern take on the impossible exhilaration of love - when nothing means everything and everything means nothing, and the entire world shrinks down to a single moment in which we decide what to keep and what to leave behind.
 
MAY 27th – JUNE 18th, 2011
Wednesdays through Saturdays at 7pm
Special Benefit Performance: Thursday, June 9th. Tickets to the performance and exclusive post-show reception are $50— for more information please email coltcoeur@gmail.com or click here to buy tickets.
Additional 7pm performances on Sunday, June 5th and Tuesday, June 14th.
 
HERE, 145 6th Avenue, NYC
(enter on Dominick, 1 block south of Spring)
For $18 tickets and showtimes click here or call 212.352.3101


 
*Member of Actor's Equity.  This is an Equity-approved Showcase.
 
This production is being presented through HEREstay, HERE's curated rental program, which provides artists with subsidized space and equipment, as well as technical and administrative support.
                                                 
                                                     **********
Please put Friday, April 22nd on your calendars! We will be presenting the culmination of our Play Hotel play-making educational initiative (with Brooklyn middle-school students) at 5pm in our DUMBO studio. Reception to Follow!
                                          *****

Colt Coeur's March PLAY HOTEL staged reading of Molly Goforth's (Don't) Look At Me with: Katya Campbell, Curzon Dobell, Erin Felgar, Meredith Holzman, Eric Loescheider and Kate Roberts was featured on PLAYBILL!